How to correctly shampoo, condition and treat your hair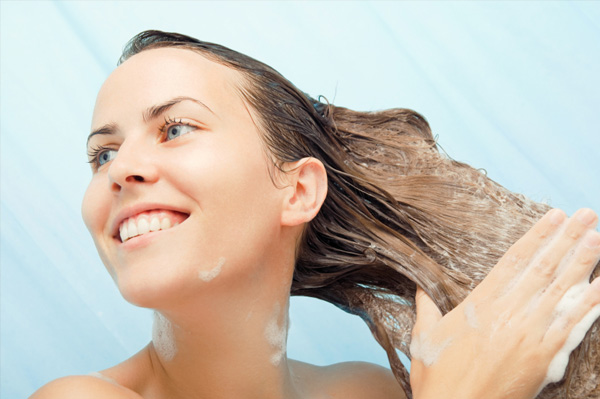 Some of the most simple hair care concepts can often be the most confusing and cause the most mistakes. That's why we consulted a true hair expert to get the details on how best to take care of your strands.
Shampooing and conditioning. These two words seem like pretty straightforward concepts, right? Not necessarily. For all those hair care aficionados out there, there are many of us who are puzzled by how to properly take care of our precious strands. And if you're not properly treating your hair in the shower, you're going to have some problems when you go to style. That's why we consulted Justine Piecuch, Stylist at Boston's renowned Jeffrey Lyle Salon to get the scoop on what stylists think we know, but we really don't.
"I'm always amazed when I'm consulting with clients as to how many people are confused on when and how to use [shampoo and conditioner]," Piecuch says. "When you do these things correctly and have a good schedule, everything having to do with styling is better — the hair is shinier, stronger, and responds better to what you do."
Shampoo 101
Typically the first step in your hair care shower routine, shampoo is meant to cleanse the hair and scalp. Without shampooing, Piecuch says that all your favorite hair products and dirt can build up over time and cause irritations in the scalp and an unpleasant greasy look.
Even though shampooing seems like it'd be a pretty straightforward process, many of us are doing it incorrectly. We asked Piecuch for her tips for a perfect shampooing and here's what she had to say: "It's important to scrub your scalp (especially in the front top, where people typically place products first). You're either someone who shampoos every day or someone that goes as long as they can (and substitutes those days with a dry shampoo). Either way, there should be a rhyme and reason to your schedule."
If you're a religious shampooer and wash your strands on a daily basis, Piecuch recommends using Kérastase Chroma Sensitive, a sulfate-free cleansing balm. The one part cleanser, two parts conditioner product helps prevent dryness and color fading, and she suggests using it every other day. If you shampoo every few days, try doing two rounds of your favorite shampoo to make sure you've removed all residue.
The most important part about shampooing? Finding the right product. Piecuch suggests talking with your stylist to find out which product works the best for your hair type and says "it's best to leave the decision in the professional's hands so you get the most from it."
Conditioning 101
After you've cleaned your scalp and hair, conditioners or masques should come next. But since many of us are confused about the difference between the two, we consulted with Piecuch to find out how to reap the benefits of both. "Conditioner is used to detangle the hair. It smoothes out the cuticle by resting on the surface of the hair," Piecuch says. "When you shampoo it comes out, therefore not having as much lasting effect." She suggests applying conditioner about 2-3 inches away from the scalp to the ends.
So what's a hair masque? Well, these little gems (one of our personal faves) act as a treatment for your hair. Hair masques and treatments have more longevity because they penetrate into the hair. Piecuch suggests using your favorite masque once a week or every two weeks, and leaving them on for 10-15 minutes. Her favorite? The Masquintense from Kérastase. With winter right around the corner, Piecuch recommends using a masque a bit more often than usual to prevent static, caused by dryness.
As with shampoos, the best conditioner and masque for your hair will vary based on your hair type. So get yourself to your stylist and get your hair Rx now, beauties!
Via sheknows.com
Image courtesy of sheknows.com
Comments
comments